Sake-Pairing

デザート Dessert & Kameman Genmai

デザート Dessert
Das passende Pairing
Kameman Genmai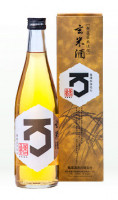 亀萬

Kameman

Genmai

Made of unpolished rice. Pleasant sweetness and roast-aroma with hints of caramel and cacao. Excellent pairing to vegetables, meat and cheese.

View this product
Sommelier

Markus del Monego, MW
For 20 years he is dedicating his knowledge and experience in to Sake-Parings. His current titles "Master of Wine" and till today, the only german "Sommelier...
Restaurant

Restaurant YOSHI by NAGAYA
The Japanese tradition of natural, puristic preparation meets the techniques and ingredients of modern European high-quality cuisine. The sommelier form...
Trusted Shops Reviews Toolkit: 1.1.5